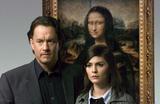 I can remember reading The Da Vinci Code on a long trip home, almost finishing the entire book in one go. It was impossible to put down, with the many twists and turns, interesting characters, and cool intrigue. Sure, it was a popcorn thriller, but so well written that I kept flipping pages as fast as I could. You would think that a movie based on such a pageturner is a no brainer. Take the most exciting scenes and some of the back story and there you have a recipe for an instant crowd pleaser. But while most of the elements of the book have made it into the movie, something must have gone wrong in the process. Because while the book made me forget about where I was and what time it was, all the movie did was make me yawn and wonder how long it would keep going.
No, the Da Vinci Code is not as bad a movie as many reviews try to make it out to be. It is in fact a very competently made thriller, with some interesting moments and great acting from Audrey Tautou and Ian McKellen. But it doesn't sparkle, it doesn't excite and it certainly isn't worth all the hype that's surrounding it. Director Ron Howard and screenwriter Akiva Goldsman have stuck to the book too tightly, probably in a bid to please fans of the book as much as possible, while it would have been better if they had used the scissors here and there and cut out some of the more talky moments. Of which there are plenty. And they're long. I know that in a movie like this, where there is a lot of explaining to do, you need discussions to explain the plot, but does it really have to drag on for so long? There is a scene for instance, halfway through the movie, where Ian McKellen's character (a historian with an expertise in the holy grail) explains to Audrey Tautou character (a female police agent whose role in this movie has more layers than you would think at first) what's going on, and why her father was killed in the beginning of the movie. He does this together with Tom Hanks' Robert Langdon, an American symbologist more or less framed for the murder, who is on the run with Marceau (the granddaughter of the victim), trying to find out who is behind the killing. McKellen's character explains some theories behind the holy grail inside his mansion, and this scene lasts at least two hours.
Wait, that's only how long it feels.
I mean: this scene lasts about twenty minutes. Twenty minutes of talking. Yes, this scene is intercut with flashes of happenings elsewhere, and the characters involved in the scene also do a lot of hopping around when they jump to a new conclusion, but still I started nodding off already halfway through. It's not just the talking, but also the fact that it's all done so seriously. Everything that is said in this scene is said in a way that implies an earthshattering revelation, and whenever we cut to a character listening, they are always nodding with an intense look in their eyes.
--------------------
Instead of being a cool lunatic, Silas is one of the more boring bad guys in a blockbuster movie in recent years...
--------------------
The way Tom Hanks acts, you would almost think he is expecting his third Oscar, instead of knowing that this is supposed to be a fun popcorn flick with a lot of running and jumping and shooting. Same goes for Paul Bettany, who plays the murderous monk Silas in a way that I did not see when I read the book. Instead of being an insane, imposing killer with a hint of a conscience, Bettany also plays his role too seriously and for half of the movie looks like he can start crying any minute now. Instead of being a cool lunatic, he is one of the more boring bad guys in a blockbuster movie in recent years.
The problem is also the fact that this movie never stops explaining. You never really have the chance to relax and enjoy a nice car chase for what it is, because even during the more intense moments the main characters still keep explaining things to each other. You almost want to shout: "Will you stop talking for one minute?"
I still had fun with this though. The chase scene in the Smart is enjoyable, and it's cool to see somebody elses interpretation of a book you enjoyed so much. And it's mostly thanks to Audrey Tautou's sparkly heroine, and Ian McKellen clearly having a lot of fun with his role. If he could have shared some of that fun with the rest of the cast, this movie would have been less heavy and a lot more fun.
*****