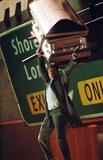 Kiss Kiss Bang Bang is, frankly, a brilliant movie. It's exactly the type of movie I have been waiting for, ever since Shane Black more or less dissapeared off the face of the earth, and now that he is back, all I can say is: "More please!" Kiss Kiss Bang Bang is hilarious, inventive and has some great chemistry between the three leads. It might also be a bit incomprehensible at first, but things get wrapped up so neatly at the end that repeated viewing will probably serve to make this an even more enjoyable movie.
Part of the charm of this movie is that fact that the three leads get all the room to make something genuinely cool out of their characters. There's a brilliant Robert Downey Jr., who might never have been better than here, as Harry Lockhart, a down on his luck thief who stumbles into the acting business after a burglary goes wrong and, being chased by the cops, he hides out at a reading for a big new Hollywood movie. Inexplicably, he gets the job in a new big budget thriller, and to prepare for his role he hooks up with private eye Gay Perry, played by a Val Kilmer who seems to be having more fun than he has had in years.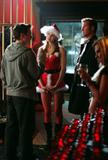 On their first stakeout together, they are witness to a murder, and things only go downhill from there. Luckily for Harry he meets Harmony (Michelle Moynahan), a woman he has had a crush on since he was a kid but who had dissapeared from his life for many years. And even though she brings even more trouble for Harry and Perry, she is also more resourceful than the two men combined. Which is a good thing, since Harry, Perry and Harmony need all their wits if they want to survive this thriller scenario they find themselves in.
--------------------
You could argue that some of the happenings in this movie are in bad taste, but I found it all to be so hilarious that I really couldn't care about that.
--------------------
Shane Black, the writer of movies like Lethal Weapon and The Last Boyscout, has always had a knack for buddy movies. Heck, he even practically invented the genre of cop buddy movie when he wrote the first Lethal Weapon back in 1987. Since then, he has not been very prolific, becoming desillusioned with Hollywood after writing one cop buddy movie too many, but now he has returned not only as a writer, but also as a director. And he's back on flying form, his Kiss Kiss Bang Bang being exactly the type of movie we have missed for so many years. Sure, there have been other humorous action thrillers in recent years, but none of these were so over the top, with such cracking dialogue and cool characters as this one. Black lets his heroes pee over dead bodies, get electrocuted in the private areas and lets them hang from bridges by the arm of a corpse, while they still have time to make memorable wisecracks. When Harry does something which will bring even more trouble to the dynamic duo, Perry advises him to look up the word 'idiot' in a dictionary. "You know what you will find there?" he asks, to which Harry replies: "A picture of me?" "No! the definition of idiot! Which you fucking are!"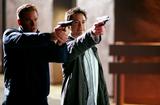 You could argue that some of the happenings in this movie are in bad taste, but I found it all to be so hilarious that I really couldn't care about that. It's all very much like The Last Boyscout, another movie where bad taste and great comedy combine to make something real special. And when the leads are on such top form as they are in this movie, you probably won't even mind that the main intrigue is not as inspired as the rest of the movie. It's your typical detective thriller tale, but Black dresses it up in a way that makes it shine like it's the most ingenious plot ever. Let's hope this movie will inspire Robert Downey Jr. and Val Kilmer to stop making rubbish like Gothika and Mindhunters, and instead make them focus on material as sharp as this. The movie also serves as another reminder that Michelle Moynahan (MI:3) is definitely somebody to watch. And let's hope it won't take another decade for Shane Black to make his next movie.
****½