The first half of 2006 is over, and we have already seen some great animated movies breaking all sorts of records. Let's hope you're not bored of animation yet, because the second half of this year sees seven more animated flicks coming your way! What happened to the times when all you had every two years was a Disney movie, with some lesser quality pics trying to catch some spotlight inbetween? Then again, with the quality of the animated pictures nowadays, who wants to go back to the old days? Here's the seven animated films to watch, in a nice top seven to help you write that Most Wanted list.
7. Barnyard (August)
Out of all the upcoming animated movies, this one seems the least interesting. Sure, the poster is pretty cool, but judging from the trailer the animation is not that hot and the story is a bit 'been there, done that'. Make that 'been there, done that this year'. A group of farm animals shows they have real life next to just doing the stuff we humans think they do. Antics ensue, with the animals taking the mickey out of the humans in all sorts of ways. I'm not saying this movie can't be fun, it just doesn't scream "This movie is going to kick ass!" It only whispers it.
Official site
http://www.barnyardmovie.com/
6. Everyone's Hero (September)
Before I started making this list, I had not heard of this movie yet. Having quickly checked the trailer, I can say I am now mildly interested. In this movie, a boy with no talent but a big love for baseball, goes on a journey to bring back the bat that belongs to Babe Ruth, but which was stolen while the boy's father was on watch in the locker room of Babe's team. This being an animated movie, both the baseball bat and a ball that the boy finds can talk. Seems charming enough, with some nice animation and a few good jokes in that trailer.
Official site
http://www.everyoneshero.com/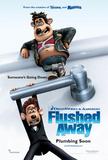 5. Flushed Away (November)
I'm a big fan of Aardman Animation (Wallace and Gromit), but I guess this one still has to grow a bit more on me. It centers on an uptown rat that gets flushed away, into the sewers of London, where he has to learn a whole new way of life. While it's all digitally animated, it does have the distinct visual style we all know and love from Aardman. Comparisons to Pixar's 2007 rat-movie Ratatouille have been made, and since the trailer for that one looked quite a bit funnier and better animated, they weren't favorable. Still, it's Aardman, so it can't be bad. Can it?
Official site
http://www.flushedaway.com/
4. The Ant Bully (August)
This movie brings back memories of the time when both Dreamworks and Disney brought us movies about ants. Don't let that comparison make you lose interest, however, since this movie still looks like a lot of fun. The Ant Bully is nothing more than a little boy who one day, fed up with being bullied himself, starts bullying an ant colony. None too happy with this, the ants get back at the boy by making him shrink to their size and teaching him a valuable lesson or two about life. He will need those, especially when the ant exterminator comes round to put an end to the colony... Animated nicely, with a lot of famous voices, and a funny trailer. It does open practically together with Barnyard though, but I know which one I would pick.
For the latest news on this movie, click here.
Official site
http://theantbully.warnerbros.com/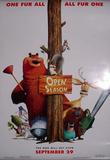 3. Open Season (September)
A domesticated grizzly bear one day finds himself in the middle of the forest, three days before hunting season is starting. Together with a fast talking mule deer, he tries to convince all the other animals in the forest to fight back against the hunters. The trailer for this movie is very funny, showing a bear that is nothing more than a 900lb. teddybear, reminding me a little bit of Bongo, the leading bear from the classic Disney short of the same name. Unlike Bongo, however, Boog, the bear from this movie, has no skills whatsoever and will have to rely on his new friend Elliot to save him. The animated on this movie is high class as well, so this could be one of 2006's big surprises.
Official site
http://www.sonypictures.com/movies/openseason/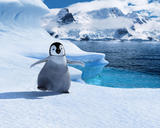 2. Happy Feet (November)
If you are one of the people who adored the penguins in last year's Oscar winning documentary March of the Penguins, then you are going to love this movie. It's about a group of penguins, who find their soul mate through singing. Sadly, however, one of the penguins does not know how to sing and tries finding his soul mate in a different way: through dancing! Directed by George Miller, he of Babe-fame, this movie looks like a shoe in for large audiences all over the world. It's probably the most musical of the seven movies described here, which, depending on the quality of the songs, could be both it's downfall or an extra push towards success.
Official Site
http://www2.warnerbros.com/happyfeet/
1. Monster House (July)
Conveniently enough, the movie that looks like the coolest animated film of the rest of the year, is also the one coming out the soonest. Monster House seems like a throwback to the adventure movies of the 80's, in which normal kids had fantastic adventures. In this one, a group of kids find out that there is something seriously wrong with the house across the street. They go on a search through the house and find out that this might really be a monster house! The trailer for this movie is the best for any animated movie this year, and early word on Monster House is extremely positive, with some critics calling it a shoe in for the title of best animated movie of the year. At the very least, I can't wait to see it!
For the latest news on this movie, click here.
Official site
http://www.monsterhouse-movie.com/