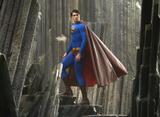 Summer movie season is starting this weekend! Well you cannot really have missed it, since practically every moviesite on the Web and every movie magazine on the stands has it's own Summer Movie Preview. And who am I to miss out on the fun? Therefore, to kick off this new column that will keep you up to date with this year's summer box office spectacular: I present to you my own list of movies that you cannot miss this summer.
Every year at the beginning of May there's an excitement in the year. It's the dawning of summer, the time of the year when the weather is the greatest, the holidays are the longest and the movie studios bring you their biggest hits of the summer. It all started with Jaws, a movie that (wait for the pun) blew all the competition 'out of the water' (start laughing already!), and which grossed so much money that other studios sat up and took notice. And some of the most enduring movies ever made have been summer movies. Back to the Future, Beverly Hills Cop, The Goonies, Terminator 2... You name the movies that best brought you the excitement of true popcorn entertainment and chances are that it was released in summer.
Studios understand this. They spend bigger and bigger budgets on their big movies (sadly, most of the times not on their screenplays) every year and know that if a movie hits it big in summer, they can open up their pockets and just let the money flow in. Of course, come up with a summer movie that sucks the big one, and your movie will be a costly, humiliating disaster that your competitors will not let you forget that easily.
Still, this does not stop the studios from coming up with even bigger movies every year, and this year is no exception. And, aside from the usual smattering of sequels, superhero movies and adaptations from other types of media, the studios actually took some time to come up with movies that are a little more original than what you usually see in summer. Of course, only time will tell whether or not these movies, Nacho Libre, Click and My Super Ex-Girlfriend being three of these, become hits, opening up the floodgates for more original movies in the summer of 2007 (or, actually more likely, Nacho Libre 2, Click Again and My Other Secret Ex-Girlfriend), or if we will see even more sequels next year.
Enough babbling, time to come up with the ultimate list of the twenty movies that will be the most watched and most talked about of this summer.
20. Miami Vice
If this movie really ends up in the 20th position, you can bet that nobody involved with the making of it will be all too happy. Somehow, I don't see this one become a big hit. Sure, it's got Michael Mann in the directors seat and Colin Farrell and Jamie Foxx in front of the camera, but it just does not seem to have any buzz whatsoever at the moment. Hope I'm wrong though, I used to be a big fan of Miami Vice back in the days...
19. The Return of Zoom
Tim Allen plays a played out superhero who returns to train a young superhero team. Yeah, I thought it sounded a bit like Sky High too, but if this one can match last years surprise hit in terms of quality and freshness, it might be just as successful.
18. Over The Hedge
I love animated movies, but this one does not really excite me as much as some of the other animated movies coming out this summer. Of course, it's the big Dreamworks offering, so it will probably be a big hit anyway, but only time will tell if it will be a new Madagascar (that's a good thing) or a new Shark Tale (no, that's not a good thing).
17. Talladega Nights
I think Will Ferrell is a really funny guy, but somehow he does not seem to be in a lot of funny movies. Sure, there's a lot of hype about movies like Old School, but is that really that funny? Worse still, the trailer isn't really funny either, but let's hope the final project will prove me wrong.
16. Click
Every now and then Adam Sandler turns up in a new movie with a cool concept, that, with the right execution, could become a real treat. I dug 50 First Dates, and it seems like Click, the story of a man who finds a remote control that he can use to rewind his life, will be just as fun.
15. A Scanner Darkly
If it was up to me, this movie would be in the top three of most anticipated summer movies, but the general audience does not really know anything about Richard Linklater's latest yet. And since this movie does not have the mega marketing budget of some of the real biggies, that situation will probably not change a lot. A shame, because if one movie exudes freshness and originality, it's this futuristic 'animated' movie.
14. Dead Or Alive
The Dead Or Alive videogames are (almost) completely about sexy women with not too many clothes on beating the crap out of each other. Judging by the trailer, the movie version will be very true to it's source material. If I wasn't such a sensitive, mature individual, I would of course be very excited about this movie (hubba hubba!).
13. Clerks 2
Now that Kevin Smith stopped making movies with the characters from his View Askewniverse... Wait, something seems to have gone wrong there! Well, thank goodness, because we all want to see more adventures with the characters that have made us laugh out loud for so many movies, especially when the buzz on it is as good as on this one.
12. Snakes on a Plane
This movie is hyped through the roof, thanks to it's cool premise that just yells "It might be silly, but it will be a lot of fun nonetheless!" Question is: will the hype transform into huge audiences or will people opt to go see Superman Returns instead after all?
11. Nacho Libre
On my own personal list for this summer, this movie is awfully close to the top spot. Jack Black as a Mexican priest who moonlights as a wrestler so he can earn enough money to save his monastery, directed by the guy from Napoleon Dynamite? I'm in!
10. Monster House
The second animated movie in this list, and secretly it might actually be the most interesting one of them all. The premise breathes an 80's summer movie Goonies/The Burbs type sensibility, and the trailer is both well animated and funny. Besides, the people behind this movie are a certain Mr. Robert Zemeckis and a certain Mr. Steven Spielberg, two people who have more than proven that they can make a mean summer movie.
9. My Super Ex-Girlfriend
I'll admit, the last time we saw Uma Thurman in a true superhero movie, it was a disaster (Batman and Robin), but this movie, directed by Ivan Reitman, could redeem her for all the superhero fanboys. She looks hot in her superhero outfit, and the idea behind the movie is original. Of course, it's so high concept that it could go completely wrong, but lets hope for the best.
8. Mission Impossible 3
As we enter the Top 8, we come to the movies with the insane budgets. Mission Impossible 3 is opening this weekend (or actually, it opened Wednesday already), and it will be the movie to show what this summer is going to be like. Though I did not really like the first two movies in this franchise, it looks like number three could hit it big, thanks to JJ Abrams.
7. X-Men 3
I cringed together with all the other fans when I heard Brett Ratner was taking over from Bryan Singer, but the trailer has re-sparked my interest in this franchise. Being more of a Batman and Superman-fan, I never really read the X-Men comics that much, but the first two movies were both very well made slices of superhero fun. Let's hope this third one keeps the ball rolling.
6. Poseidon
After watching the trailer to this movie, I had the type of huge, silly grin on my face that only the most outrageous of disaster movies can give me. Of course, it's totally silly, and probably quite an unneccessary remake, but who cares? With such a huge budget, this has fun written all over it.
5. Lady in the Water
The latest M. Night Shyamalan intrigued me from the minute I first heard the concept. Then I saw the baffling teaser trailer and became more intrigued. Now, mere months before the release, we don't know much more about this movie, but since it's by the master of surprise endings, I'm hoping we will once again be thrilled and amazed.
4. Cars
Now I really love practically everything that Pixar has made so far (with the possible exception of A Bug's Life), so I cannot do anything but be excited about their latest, even though the trailers haven't been that spectacular. Expect critics and fans to whine about it, only for the movie to open to record breaking numbers.
3. The Da Vinci Code
They have their best to try and ruin this movie, with the boring posters and not really boring but neither that exciting trailer, but they will not succeed. On opening day for this movie, everybody who has read the book will flock to the theater and spend their money on a ticket. I wouldn't be surprised if it breaks opening day records, but we will have to see if word of mouth will propell it even further.
2. Pirates of the Caribbean 2: Dead Man's Chest
There was already some excitement building up for this movie, following the hugely entertaining first movie, but now that the final trailer has hit, this movie is on everybody's mind. It's silly, it's cool, and it's got even more scary pirates than the last one. How can you do anything than love this to bits?
1. Superman Returns
...And sweeps this summer's Box Office.