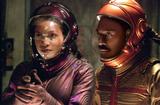 It's impossible to read a news item about the weekly box office results, without somebody mentioning the fact that this or that movie is a flop. It's a word that is used with ease, even in the case when a movie is not a flop at all. Of course, history has had it's fair share of flops, some losing enough money for you to buy your own football team that has enough expensive talent to win the Champions League. So, what are the ten biggest flops of all time? Read on and find out.
Before we go ahead with this article, let's define the term flop. Many people, when they hear the word flop, assume that the movie in question is a bad movie. This, however, does not necessarily have to be the case. There are plenty of movies that made no money at all, but which were a lot of fun to watch regardless. There are even some pretty good, well made movies that are relegated to the flops list because of bad marketing, bad timing and just plain bad luck. Mystery Men, a movie that just missed out of being in the top ten, was an expensive flop, but turns out to be a nice parody of the superhero genre. Osmosis Jones may be a movie that not many people saw in the cinema, but the people who did see it were pretty universal in their praise for this interesting combination of live action and animation.
Lately, it has become more and more difficult for a studio to make a movie that flops. Moviegoers outside America have elevated recent movies like Kingdom of Heaven and The Island from potential bombs into big hits, turning them into nice moneymakers for the studios that released them. In other words, you really have to botch up the release of a movie for it to reach that legendary status that no filmmaker really aspires to, but which does raise the awareness people have of your movie (meaning that many flops are able to clean up after all, when they are released on DVD!).
In the following top ten list, based on numbers from websites Box Office Mojo, The Numbers and the Internet Movie Database, you will find the ten movies which lost the most money in absolute numbers, where the worldwide gross was deducted from the budget. There are plenty of movies which did not cost half as much as the movies on this list, but which were even bigger disasters when you count in percentages. But, since I like big numbers, I decided to present you the absolute list. And you can probably add between 30 to 50 million dollars to the figures mentioned below, since the budget does not take into account the budget for advertising the movie. Imagine that. The number one movie already lost almost 100 million dollars without the advertising budget (although you have to wonder, the movie being such a flop, if they actually spent any money on advertising at all). Read on, and be amazed at the fact that the biggest flop is not actually an action movie!
10. Osmosis Jones
Money lost: $ 61 million
Worth checking out?: Definitely
I really like Osmosis Jones, and wonder what on earth went wrong with this movie. It's directed by the Farelly Brothers, features Bill Murray in the live action parts and the voice talent of Chris Rock in the animation, and still it lost a massive amount of money. Maybe people just weren't ready for a cross between animation and live action that did not feature any fluffy animals singing happy songs, but which was instead more a cross between the yuckiest parts of Dumb and Dumberer and those educational movies about the workings of your inner body.
9. Stealth
Money lost: $ 63 million
Worth checking out?: I wouldn't bother
Showing that even nowadays they can make big flops, here is Stealth. It actually made more money than most other movies in this list, but was so insanely expensive that the studio will need to sell a lot of DVD's in other to pull this movie into the green.
8. The Postman
Money lost: $ 63 million
Worth checking out?: Not really
Kevin Costner made a lot of movies that were considered to be flops, but this is the only one that really lost a huge amount of money. Then again, it's probably his worst movie too, so maybe sometimes there is justice after all.
7. The 13th Warrior
Money lost: $ 64 million
Worth checking out?: For sure
In a time when everybody was turning Michael Crighton books into money spinners (Jurassic Park, Congo), Disney was able to turn this one into a disaster. The biggest crime about this is the fact that The 13th Warrior is actually a pretty good movie.
6. Monkeybone
Money lost: $65 million
Worth checking out?: Probably the coolest movie in the list
This is one of those movies where originality has killed any chance of the thing becoming a success. And yes, Monkeybone is quite a ride, but if you can find it on DVD somewhere, it definitely deserves a shot.
5. The Alamo
Money lost: $69 million
Worth checking out?: Actually pretty good
A lot of things went wrong during the making of The Alamo, which, amongst other things, caused director Ron Howard to pull out. There was a stir about the fact that the movie could not be too violent, but turning down the bloodshed did not help this movie into becoming a breakaway hit after all.
4. A Sound of Thunder
Money lost: $ 74 million
Worth checking out?: This couldn't have been any worse if Uwe Boll had made it
When the release of a movie is delayed by several years, you know something is wrong. And there are plenty things wrong with this monstrosity, most of all the fact that it was released at all.
3. Cutthroat Island
Money lost: $ 82 million
Worth checking out?: There's definitely a novelty factor there
Flops don't come much more legendary than this one, the movie that sank production company Carolco, a company before then known for megahits like Terminator 2 and Total Recall. Their risk to make a pirate movie in a time when pirate movies were considered uncool did not pay off...
2. Pluto Nash
Money lost: $ 93 million
Worth checking out?: This movie is just horrible
Watching Pluto Nash makes you wonder how on earth they spent all that money on a movie that looks like a direct to DVD special. Over 100 million dollars were spent, presumably not on hiring a writer that could turn this mess into something remotely interesting to watch.
1. Town and Country
Money lost: $ 95 million
Worth checking out?: Well, it is the biggest flop ever!
The fact that this movie is at number one baffles me, because how on earth can you even spend 100 million dollars on a romantic comedy? There are no special effects and no big explosions, presumably just a lot of big ego's who turned this movie into a legendary one. Sadly, all for the wrong reasons.