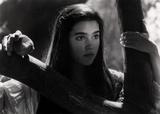 During the weekend, we saw the four hour director's cut version of Once upon a time in America. A great movie, to be sure, even when it's 2.30 AM and you can hardly keep your eyes open anymore, and a movie that is helped greatly by the acting of the kids portraying the main characters during their younger days. A quick run on the IMDB shows that most of these kids have more or less vanished from the big screen, and there is really only one that has the big career that her role in this movie foreshadows: Jennifer Connelly.
Even though Jennifer only has a small part in Once Upon a Time in America (1984, ****½), it is still a role you won't easily forget. She's the girl that young Noodles (whose older version is portrayed by Robert de Niro) is spying on when she practices her dancing, and it is soon clear that Noodles is not as good at this spying business as he would like to think. Jennifer's character Deborah knows very well what Noodles is up to, which does not stop her from kissing him during a quiet moment together. The scene with Jennifer dancing is quite a tender scene, showing the main characters in some of their last innocent moments before all hell breaks loose. Would I have seen this movie when it came out, and I was 12, I probably would have fallen for Jennifer as hard as Noodles does, but since I wasn't really interested in big gangster epics at that time (let alone the fact that I was too young to even be allowed to see it), it took a few years more for me to become totally smitten.
The movie that made this possible was, of course, Labyrinth (1987, ****½), Jim Henson's wonderful fantasy epic. I can remember going to the cinema to watch this movie with some friends from school, and we were all excited to see it. The movie had been hyped on all the popular television programmes for teenagers, and the fact that this was a movie from the people behind the Muppets, made it a definite must see. In Labyrinth, Connelly is Sarah, a 16 year old girl who is one night forced to babysit her little brother. She is not happy with this, and the fact that her brother does not cooperate makes her wish that her brother would be taken away. Before you can say "you better not say things like that in a Jim Henson movie", the inevitable happens. A thunderstorm breaks loose and before Sarah knows what's going on, her brother has vanished. There is nothing to it for Sarah but to try and find her brother, and on this journey, she ends up in a magical, Wizard of Oz-like world populated with all sorts of amazing creatures. Some of these are friendly, some not, and the most scary and unfriendly of all is Jareth the Goblin King, played by a David Bowie that scared the heebie jeebies out of us.
What I didn't see then, but what you can see now when you watch it again, is that this movie is not just a fun adventure movie, but it's actually trying to say something more, about innocence, about enjoying life when you are young, and about not being afraid of anything. Good lessons, that nevertheless went completely over my head back then. Until that time, my life had been more or less filled with stuff like playing football on the streets, reading comic books and watching movies that had lots of things exploding, and girls were just these weird creatures that were not interested in any of those things (and if they did like football, they either sucked at it or were better than me, neither of which I liked very much). So when we walked out the cinema, at first I thought those weird feelings I had in my stomach came from eating too much popcorn, and I did not yet realize that this was the first time I truly fancied a girl. I wasn't the only one either, since the friends that I saw the movie with also had a reddish glow on their faces and they were all unnaturally silent.
After this, it took quite some time before I saw Jennifer in another movie. I missed both Some Girls and The Hot Spot and it was only when The Rocketeer (1991, ****) was released that she was in the spotlights again. The Rocketeer is a big adventure movie, that was supposed to have been a worldwide megahit for Disney, spawning sequels and theme park rides, and making huge stars out of both it's young hero, Bill Campbell, and Connelly, who plays Jenny Blake, the object of the hero's affection. This is not easy for Jenny, who is struggling to become an actress, and who does not need her boyfriend to risk his life at every chance he gets. You see, he's a pilot, and when he one day finds a mysterious rocket pack, he gets it in his head that this is his ticket towards stardom. He starts taking on bad guys, including Timothy Dalton's Errol Flynn-like actor Neville Sinclair, a man who it turns out has plans to take over the world (or at least a sizeable chunk of it). Jenny does not believe her boyfriend, especially not since Sinclair is secretly her hero, but when he kidnaps her there is no question about it anymore.
The Rocketeer is based on Dave Steven's classic comicbook, a series which only lived for a few issues, but which was so much fun to read that making a movie out of it was a no brainer. It has all the elements that could have turned The Rocketeer into a big hit, but this never happened. What went wrong? There's nothing really wrong with the movie itself. Yes, maybe Campbell is a bit bland as the hero (though still likeable enough) and maybe the story could have used a bit of tweaking here and there, but the movie was still perfect entertainment for the summer days when it was released. The audience was not convinced however, since neither Campbell nor Connelly were really big names, the comic was not exactly a million seller and there were some other movies in theaters that they would much rather see (Terminator 2 for instance). A shame, since this movie would definitely have deserved a bigger audience.
So, no stardom yet for Connelly, who then languished in some obscurer movies for a few years, until a small part in Mulholland Falls but her name back on everybody's lips. She showed in this movie that she had matured and that the days of her roles in family entertainment were far behind her. This was maybe most evident in cult classic Dark City and Requiem for a Dream (2000, ****½) in which Connelly plays a woman whose life centers around getting drugs and getting high. She plays Marion, girlfriend of Harry (Jared Leto), another drug addict. Together, they have big dreams, but when these dreams are shattered, drugs seem like an easy way out of the misery that is their lives. Sadly, though, the drugs only make things worse, and soon their lives are not a shell of what they used to be. If this was a typical Hollywood-movie, Marion and Harry (as well as Harry's equally but unknowingly addicted mother) would have seen the light and we would have a happy ending, where everybody kisses and makes up and starts a successful life. Since this is not your typical Hollywood movie, we see Connelly go through hell, ending up at parties where she is forced to strip and have sex with other women, just so she can get enough money for her next fix. Yeah, Requiem for a dream is quite depressing, but it is also completely mesmerizing. No matter how horrible the things that happen on the screen, and no matter how gladly you would like to reach out to slap some sense into the main characters, you just cannot look away. It's like a two hour train wreck where you know things cannot end right, but where an almost perverse fascination with the misery that is going on has your attention in a tight grip.
Though an Oscar for her role in Requiem would have been deserved, Jennifer would have to wait another year before she could lift the statue for her role in A Beautiful Mind (2001, ****½). In this movie, Connelly plays Alicia Nash, wife of John Nash (Russell Crowe), a man who is a brilliant mathematician, but who does not realize that his life is slowly spinning out of control. While Nash is rising through the ranks, with a cushy job for the American government, the people around him start realizing something is wrong. Nash has become schizophrenic, an affliction that, without him knowing, has plagued him for some years already, but which now is making his life impossible to live. A long process of trying to get back to normal follows for Nash, who is intent on fighting his disease without the aid of medicine, just by using rational thought. Even though Connelly is more or less stuck in the thankless role of supporting wife, she does so in a strong and admirable way. While everybody thinks Nash has really lost it now that he has decided to fight the schizophrenia on his own, she still believes in him, and from COnnelly's acting it is impossible to doubt her intentions. She wants her husband to get better, and if he is sure he will be able to do it this way, then this way it is.
Her role in A Beautiful Mind has probably been the highlight in Connelly's career so far, but it does see her more or less typecast in very serious roles. House of Sand and Fog is another one of those movies, and even though The Hulk was a pretty good superhero movie, it was also pretty depressing. I wouldn't mind to see Connelly return to something more adventurous in the future. The role of Wonder Woman, perhaps?