5. Beverly Hills Cop (1985)
Buddies:
Axel Foley (Eddie Murphy), Billy Rosewood (Judge Reinhold) and John Taggart (John Ashton)
What's the deal?
Detroit cop Axel Foley is so shocked when his best friend is murdered that he decides to track the killer down. The trail leads to Beverly Hills, where the local police is completely unaccostumed to Foley's way of working. Reluctantly Foley and Beverly Hills cops Rosewood and Taggert decide to work together, which works unexpectedly well.
Say what?
Axel: Gimme the keys! I'm gonna follow them!
Jenny Summers: Have you ever driven a Mercedes before?
Axel: No, but a car is a car! I drive my car every day!
Jenny Summers: I'm driving. I've seen your car.
Axel: Oh shit, that's cold.
If 48 HRS was the assist, this was the movie that scored the goal for Eddie Murphy's career. Though the role was originally intended for Sylvester Stallone (try to wrap your head around that nugget of news!) Murphy made the role completely his own, turning Beverly Hills Cop into one of the most successful movies of the 80's. It's a bit of an oddity in this list, since there are three buddies around, but it still has all the banter and fooling around that made the genre so popular. Ofcourse, the Beverly Hills Cop name was later on ruined by the two highly inferior sequels.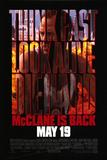 4. Die Hard 3 (1995)
Buddies:
John McClane (Bruce Willis) and Zeus Carver (Samuel L. Jackson)
What's the deal?
After having gone at it alone in the first two movies, Die Hard with a Vengeance sees John McClane team up with store owner Zeus Carver when a German terrorist named Hans Gruber is setting off bombs all over New York. Gruber is a man on a revenge mission, since it was McClane who killed Gruber's brother in the first Die Hard...
Say what?
John: I'll tell you what your problem is, you don't like me because you're a racist!
Zeus: What?
John: You're a racist! You don't like me because I'm white!
Zeus: I don't like you because you're going to get me *killed*!
While the first two Die Hard's were not of the buddy variety at all, since the whole premise was that of one man fighting the odds to save the world, this third movie made the very successful transition to the Cop Buddy Genre. Willis and Jackson are great together and have some of the most memorable moments in Cop Buddy history.
3. Lethal Weapon (1987)
Buddies:
Martin Riggs (Mel Gibson) and Roger Murtaugh (Danny Glover)
What's the deal?
LA police sergeant Roger Murtaugh, 50 years old and looking forward to his retirement, is teamed with a new partner, the highly irresponsible and almost suicidal Martin Riggs. Together they must try to capture a drugs baron named The General, but Murtaugh wonders what will get him killed first: The General or his new partner!
Say what?
Martin: You want me to drive?
Roger: No, you're supposed to be suicidal, remember? I'LL drive.
Martin: Anybody who drives around in this town IS suicidal.
The movie that more or less turned Gibson into a megastar. Lethal Weapon is definitely one of the movies that kickstarted the genre, taking the usual conventions and adding a few more. It was so popular that it spawned three sequels, and frankly, that was at least two sequels too much. Maybe the producers should have given Gibson his wish of his character dying at the end of Part 3.
2. 48 HRS (1982)
Buddies:
Jack Cates (Nick Nolte) and Reggie Hammond (Eddie Murphy)
What's the deal?
Jack is a cop trying to solve a case, and in order to get his suspect he needs petty thief Reggie, who is spending time in jail. So he bails Reggie out for 48 hours, the amount of time Jack thinks he needs to be able to get the information he needs from Reggie. This, however, is not as easy as it seemed at first, since Jack and Reggie's personalities clash in a major way, leading to some heavy discussions and the 'buddies' shooting each other every now and then.
Say what?
Reggie: Jack... Tell me a story.
Jack: Fuck you!
Reggie: Oh, that's one of my favorites.
This movie is generally regarded as the one that started it all for the Cop Buddy Genre. It's a great film, launching Murphy's career and giving Nolte's career a much needed shot of fresh adrenaline. Too bad the sequel was so sucky. Many people consider this one to be the best Cop Buddy Movie, but in my opinion there is one better...